Welcome to the home of Squash in Thunder Bay. We have assembled this site to keep those local players and visiting players informed on the happenings in the sport of Squash in Thunder Bay, Ontario, Canada.
If you need info that you cannot find here, please drop us a note to Email
If you are here, you have an interest in Squash. The world squash community has been fighting to get squash into the Olympics for years,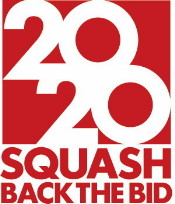 and they have kicked up the campaign several notches. The program, "Back the Bid 2020" seems to be gaining momentum.
Thank you Sponsors