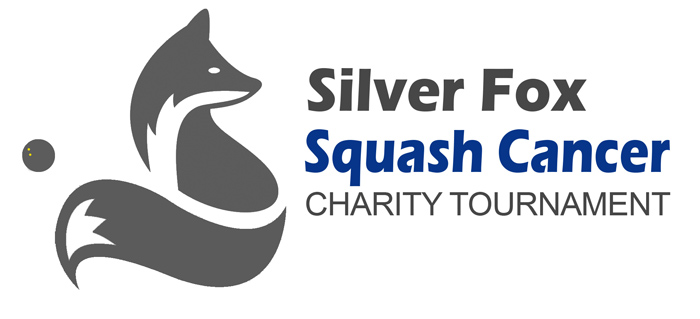 The Canada Games Complex is hosting the 26th Annual Silver Fox Squash Cancer Charity Tournament March 27-29, 2020!
We will be raising funds for both the Northern Cancer Fund (via Thunder Bay Regional Health Sciences Foundation) as well as the Underground Gym. Last year with the generous help of our corporate sponsors, we were able to donate a combined $5,800 to the Underground Gym and the Northern Cancer Fund and this year we hope to beat that!
NEW THIS YEAR! We will be providing a

$1,000 purse for the winners of the Open Division
! We are really excited to be able to offer this and hope it means more folks from the region and beyond will be enticed to come and play for some serious cash! 
Cost
$60 for Adults/Seniors and $40 for Juniors (payable before play) (multiple juniors from same family will be $30)
Donations and Registration Payment
Any donations that would like to be made to the Silver Fox Squash Cancer tournament can be sent through e-transfer to silverfoxsquashcancer@gmail.com. For your convenience, we will also accept payment for registration via e-transfer and will be sure to indicate it on our registration form.
Accommodations
Great news! The Holiday Inn Express has provided a special discount for out of town tournament participants! During March 27-29 weekend, if you call 807-346-0220 and mention booking code SFS (Or just mention Silver Fox Squash Cancer Tournament) you can enjoy a discounted rate of $119 a night (vs. $149 a night). They have set aside 15 rooms and any extra rooms not booked a month out from the tournament will be released, so be sure to book soon!
We're also providing billeting for those from outside the region (and potentially from within, if we have enough). So please indicate on the registration form if you're interested in taking advantage of this. We can't guarantee a spot but we'll do the best we can!
Early Bird Draw
As usual, we will have an Early Bird Draw for those players keen on registering early! Register BY March 7, 2020 for your chance to win ESSO gift cards!
Raffle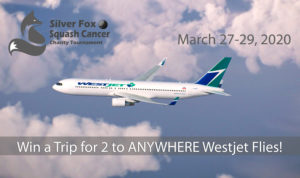 New this year! We are grateful to WestJet for the donation of 1 Flight for 2 anywhere WestJet flies! We are raffling this amazing prize off at $10/ticket or 3 for $20! The draw will take place Saturday night (March 28) and the winner does not have to be present to win.
Some conditions apply. Download the fine print.
Social
We will be hosting two socials again this year! Friday night will take place at Sleeping Giant Brewery and Saturday night will be at Tony & Adams. Extra tickets for non-players to attend Tony & Adams will be $25.
Divisions
Open
A
B
C
D
Women's Beginner
Emergency Services (Beginner-ish)
Jr A
Jr B
Toonie Tourney
Back by popular demand will be the Saturday afternoon toonie tourney! Bring your spare change for your chance to battle it out on the squash court to win half the pot! Timing will depend on the draw but we hope to have it sometime on Saturday during the day. Be sure to come out to this super fun event!
Registration
Hoodie
**NOTE! REGISTRATION AFTER MARCH 7 MIGHT NOT BE ABLE TO SECURE A HOODIE AS ORDERS NEED TO BE PLACED BY MARCH 7!**
he hoodie is two-tone (black and charcoal) and made of 100% polyester with Spandex cuffs. The cost is ~$65 (a portion going toward fundraising for our local charities):